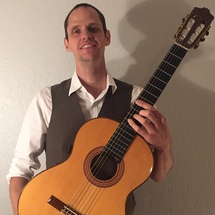 Rated Average from 2 reviews:
Carlos Caminos
Acoustic Guitar Teacher in Oakland, CA 94611, United States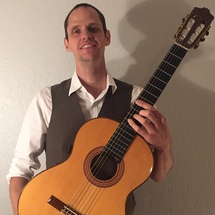 Rated Average from 2 reviews:
Instruments
Acoustic Guitar, Electric Guitar.
Area(s) of Specialization
Accompaniment, Classical, Composition, Improvisation, Jazz, Theory.
About
When students love what they are practicing the whole learning experience is optimal.
I work with students to find their own connection to music and give them the tools with which they can understand and play the music they love.
Contact Information
Address:
Oakland, CA 94611, United States
Reviews
Total amount of reviews:
2
Amount of positive reviews:
2
Amount of other reviews (not displayed):
0
Carlos Caminos
Submitted by Steve Gelfand

on Dec 26, 2018
I am a beginner. Carlos has been working with me for about 6 months. I met Carlos while his trio was playing in a restaurant. He was outstanding. I approached him, we talked and then he became my teacher. Carlos is an outstanding musician and guitarist. As a teacher, he has taught me how to practice and expand on the technical aspects of playing the guitar. But what I find best about Carlos is his ability to inspire me. I am moved to hear, see and feel the music. To feel and play the beat. The result is: I am becoming a better guitarist. It is visible. But most importantly, I am inspired to become a musician. I am encouraged to experiment with the sounds and beats that make music the magical thing that it is. I hope that Carlos can inspire you as well.
Guitar Teacher
Submitted by Elina Adams

on Dec 18, 2018
It is my privilege to recommend a professional musician, Carlos Caminos, as a guitar instructor. I am continually amazed at his depth of musical and pedagogical knowledge. I started my lessons at the Guitar Center. I am retired, over seventy, and at last have the time in my life to take lessons. I would have continued at the Guitar Center except my teacher there moved to Alaska. Meeting Carlos has changed my whole perspective regarding music. Instead of just learning individual songs, I have been inducted into a different universe called music. I'm not sure how he does it. Just like the Guitar Center, we start with a song I want to learn. The difference is then from that song we somehow progress to a scale that song is based upon and a chord sequence that goes with the song I want to learn and also is related to other songs. I'm also learning different time sequences and patterns and strums and notes—also different styles—blues, rock, jazz, Spanish-- yes, it's a lot—but somehow he makes it fun and even makes me FEEL like I'm a musician—like we're getting together to "jam". He's very down-to-earth, patient and encouraging and will say occasionally say "that's my mistake" (which makes me feel better). I also appreciate when Carlos suggests different practice strategies to help me learn the parts of a song that are giving me difficulty. As a former kindergarten teacher, I know Carlos would work well with children because as I said, he makes it fun and is not stingy with positive comments. I strongly recommend Carlos as a teacher for any level of interested student Sometimes I think he's wasted on a beginner because his knowledge level is certainly well beyond what I'm able to comprehend at this time. Yet I also think it's this knowledge level that enables him to connect the musical elements in a way I can understand based on the songs I want to learn. I know if you are able to schedule Carlos as an individual instructor you will amaze yourself with the music you can make and enjoy in a relatively short period of time. Respectfully submitted, Elina Adams

Learn to read musical notes by playing a game.
Improve sight reading skills while having fun.
Install NoteWorks Free on your iPad, iPhone
OR Android Device
WARNING: This game can be addictive